After going over the models using the NAM I can see there could be a moderate risk for the Sioux falls area . Now this is 24 hours out from the time I wrote this so slight changes in the atmosphere could be possible. It looks like storms should be popping up in the Sioux falls area around 4PM CST. So let start at the bottom and work our way up.
So and 21 UTC the temps will be in the mid to high 90s while the dew points at surface level sitting in the 80s while surface winds will the coming from the the south 12-15 mph. this will give the surface the fuel it needs for convection to begin. AS we go up in to the atmosphere we will find a mid-level jet coming from the north west at 30kts. Meanwhile the CAPE will be in the 4000 J kg. And the EHI looks great too sitting in the 7.00 (what ever that means)
And to make sure this forecast is panning out correctly I even checked the sounding in the Sioux Falls area.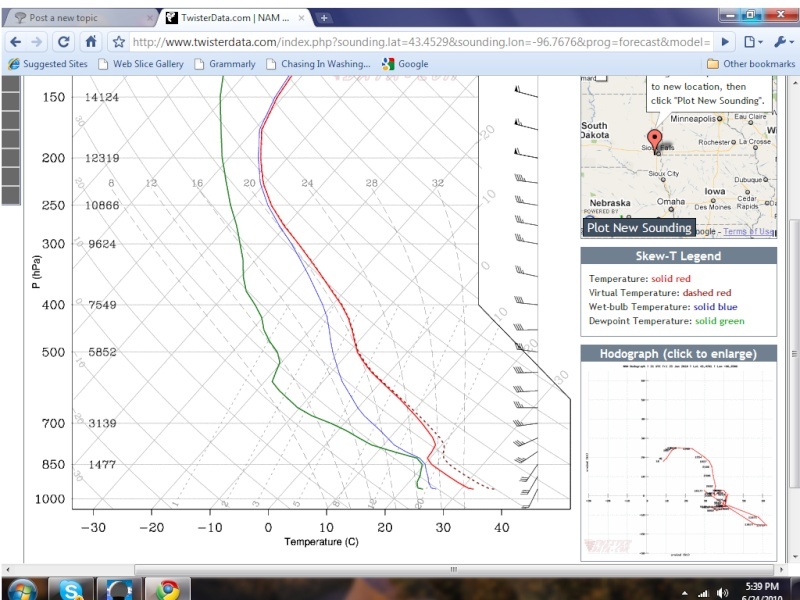 As you can see there is a slight CAP but i believe this will break... But the Hodograph looks great. So we will see if the SPC will but this area under a moderate risk or not, only time will tell. Will Sioux falls sound there sirens tomorrow or not?